The Global Leader in Fluid Power Safety
Headquartered in Ferndale, Michigan, ROSS designs and manufactures pneumatic valves, control systems, and is universally recognized as a global leader in fluid power safety solutions and poppet valve technology. ROSS provides standard products and customized ROSS/FLEX® solutions for industrial machinery and automation applications.
Selling to original equipment manufacturers and end-users throughout the world, ROSS reaches its global customer base through manufacturing and distribution facilities located in the United States, Germany, France, United Kingdom, Japan, China, Brazil, India, and Canada augmented by a worldwide network of stocking distributors for a truly global customer service capability.
A Global, Family-Owned Company
Built on Our Core Values and on Our Culture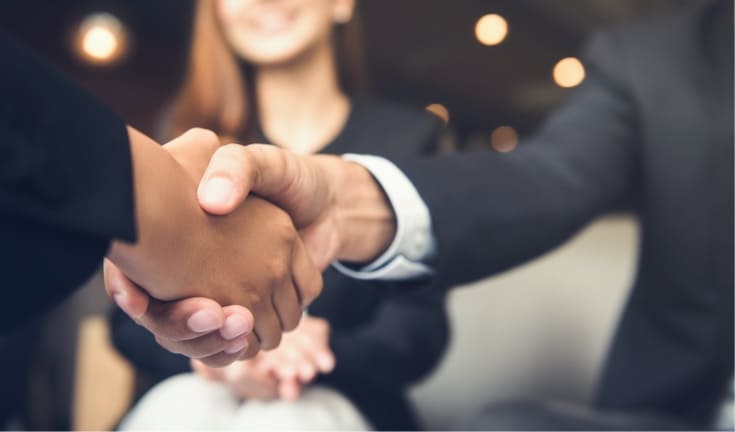 Ethics & Integrity
Ethics and Integrity are at the center of all we do.  We play by the rules and build lasting relationships with our customers, suppliers and among our employees.  The extended ROSS family counts on each other and accountability is a powerful advantage for ROSS.
---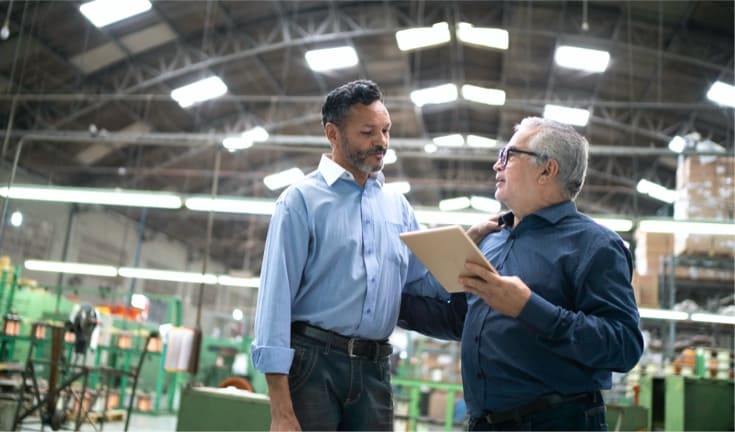 Our Focus
Our focus is "outside – in". Our customers come first because we know our success is determined by the success of our customers. We take pride in our ability to be agile for the benefit of our stakeholders.
---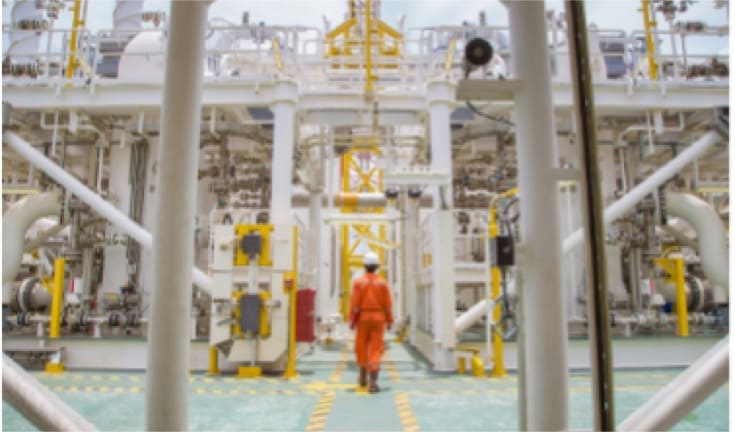 Safety & Quality
Safety and quality are the foundation on which our reputation is built, represented by our long history of innovation in industrial safety products. We are the worldwide leader in fluid power safety technologies and believe in the importance of our mission.
---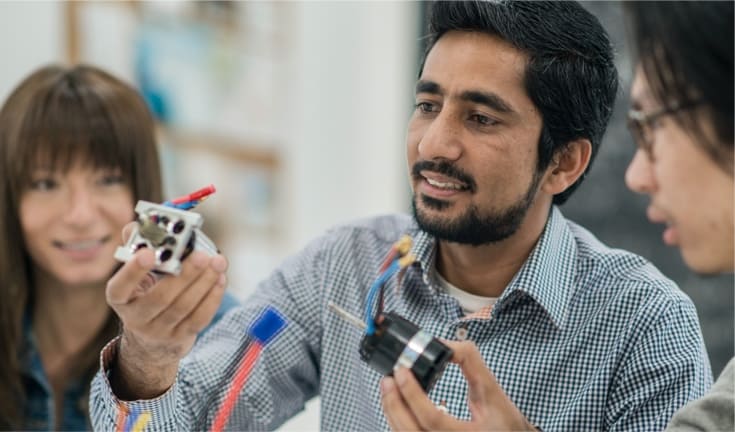 Passion
Our energy drives us to explore new markets, develop new technologies, introduce new products and improve our processes – all within a disciplined, metrics driven framework
---
Our People
We strive to attract and retain superior talent and to provide an environment in which employees can make a difference and are recognized for it.  We understand empowered employees using their creative abilities in a team-first setting will deliver the best solutions and greatest value to our customers.
---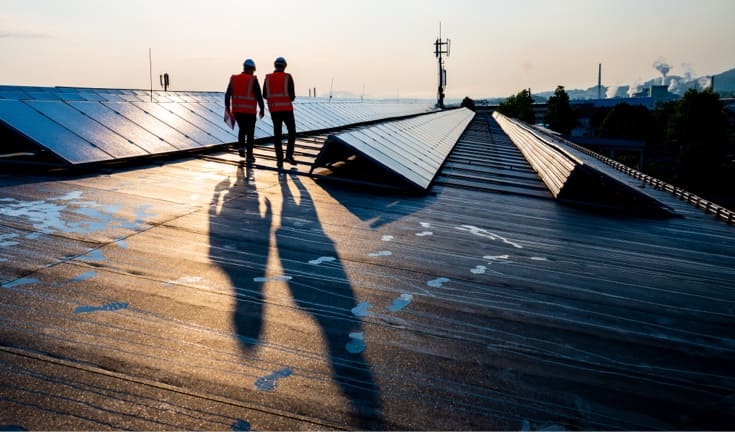 Sustainability
ROSS Controls is committed to Environmental, Social and Governance (ESG) principles and has implemented significant measures throughout our global organization to address these areas. ROSS' ESG initiatives rest upon two fundamental pillars – our Core Values and our Code of Conduct.
ROSS 100 Year Historical Timeline
1920's
1930's
1940's
1950's
1960's
1970's
1980's
1990's
2000's
2010's
2020's
1921
On July 1, ROSS OPERATING VALVE COMPANY is incorporated in Detroit, Michigan. It's first facility is located at 6488 Epworth Street in 1923. The Company takes its name from Charles A. Ross, the inventor of the valve that launched the Company.
St Clair Cameron was an original investor in the fledgling valve company. Today, as Shareholders, his Grandchildren and Great-grandchildren carry on the vision and rich tradition of a family-owned business.
1924
On March 11, ROSS' legacy of innovative design begins when United States Patent 1,486,303 is issued (a four-ported pneumatic lever valve). This is the first of over 120 patents to be issued in the coming decades.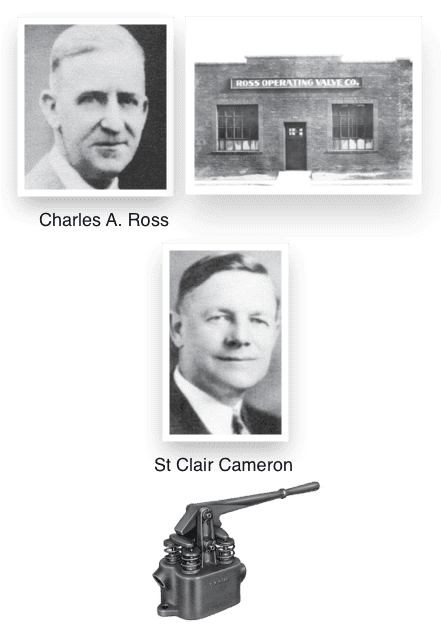 ROSS continues to build a solid reputation across many industries for rugged and reliable valve performance, especially in harsh applications.
Variations of the original lever valve are developed and vertical handle, spring return, detent locking and non-locking models are introduced.
1932
ROSS makes a key strategic decision to expand its business by forming relationships with independent distributors.
1934
Innovative product development continues and includes the introduction of the first solenoid operated valve in 2-way, 3-way and 4-way functions.
ROSS adopts the company slogan: "The Bridle for Air Horsepower".
By the end of the decade, ROSS expands into international markets by establishing a licensee agreement with the Wellman Smith Owen Engineering Company in England.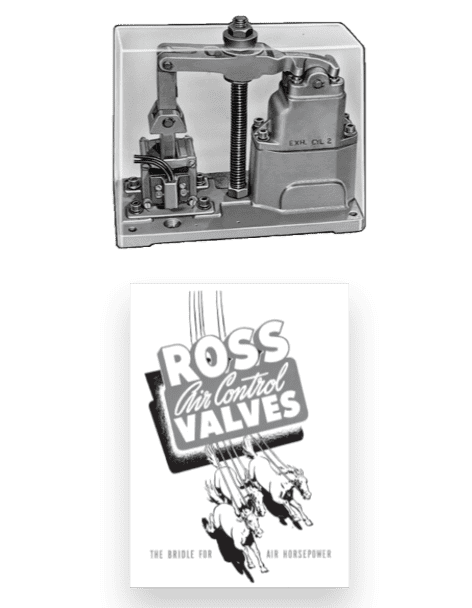 1941 to 1945:
ROSS valves are indispensable in building the "Arsenal of Democracy" and are used in steel mills, stamping plants, welding and assembly lines.
The U.S. Navy engages ROSS to support its wartime activities and priorities and ROSS directs its product development resources toward the war effort. ROSS engineers and manufactures various new designs, including valves used to operate bulkhead doors on U.S. warships.
ROSS introduces a first of its kind and industry-leading base-mounted poppet valve.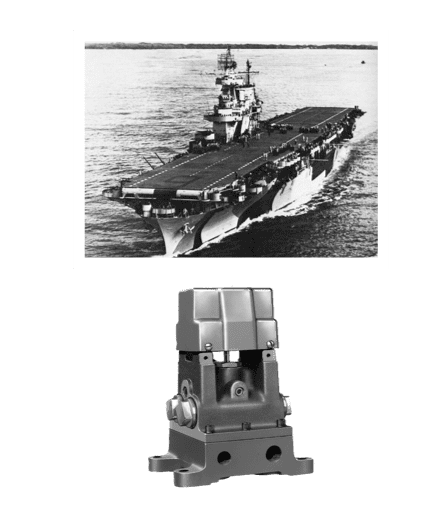 1951:
Russell J. Cameron, son of founding partner St Clair Cameron, becomes President of ROSS. He initiates a three-pronged business strategy which puts ROSS on a path of growth and industry leadership:

Expand the Company's Product Line
Expand the Company's Geographic Reach
Expand the Numbers and Types of Industries Served
1953:
The patented ROSS Double Valve is introduced providing stamping plants with a ground-breaking level of safety for workers. This is the beginning of ROSS' commitment to Safety.
1956:
On September 12, ROSS produces its one-millionth valve. The valve is gold-plated to commemorate the achievement and is still on display at the Company's World Headquarters.
1959:
The famous PACER® Pilot is introduced and quickly becomes the workhorse of industrial productivity.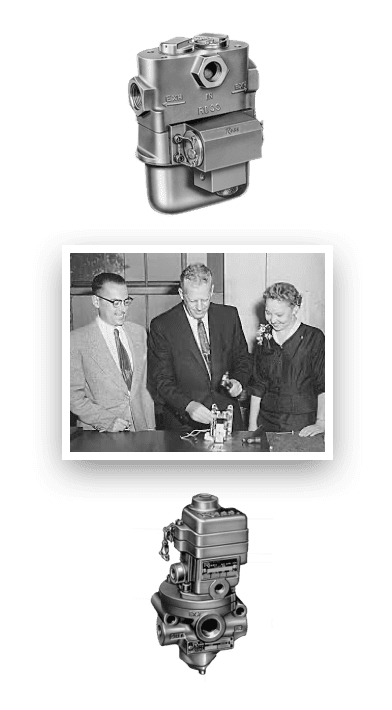 1960:
ROSS expands global coverage by establishing ROSS Europa GmbH in Frankfurt, Germany and establishes distributor agreements in most of Europe.
1963:
ROSS reinforces its global leadership in Press Safety with the introduction of the Series 2500 L-G Monitored Double Valve at the industrial fair in Milan, Italy.
ROSS reinforces its industry leadership in Safety by introducing the L-O-X® valve and the HSR Two-hand Control. The L-O-X® valve is the first lockout/tagout valve designed specially to improve worker safety. This visionary ROSS product is introduced decades before OSHA mandates lockout/tagout safety requirements.
1964:
ROSS expands industry applications by introducing Logic Control Modules used with the 27 Series.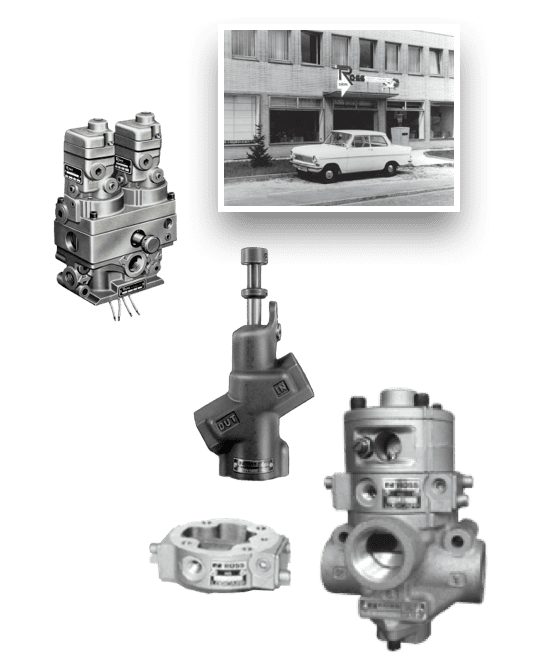 1971:
ROSS unveils a new and modern logo to recognize its 50th Anniversary. As part of a new branding strategy, ROSS begins to paint valves the now famous ROSS Gold.
ROSS introduces a novel 3-on-1 valve series. The Series 70 (metal spool), Series 71 (resilient seal spool) and Series 72 (poppet) are interchangeable on the same base/manifold.
1972:
ROSS Europa GmbH officially becomes a wholly-owned ROSS subsidiary with a new 32,800 sq. ft. manufacturing facility located in Langen, Germany.
1973:
ROSS Asia K.K. officially becomes a wholly-owned ROSS subsidiary with offices in Tokyo, Japan.
The Series 3500, a new generation of a ROSS Double Valve, is introduced. ROSS expands its monitoring technology with the introduction of the E-P Monitor (electro-pneumatic).
1977:
ROSS' Tandem Flow SERPAR® Press Safety Valve receives the prestigious Gold Medal Award for innovative design at the Leipzig Trade Fair in Germany.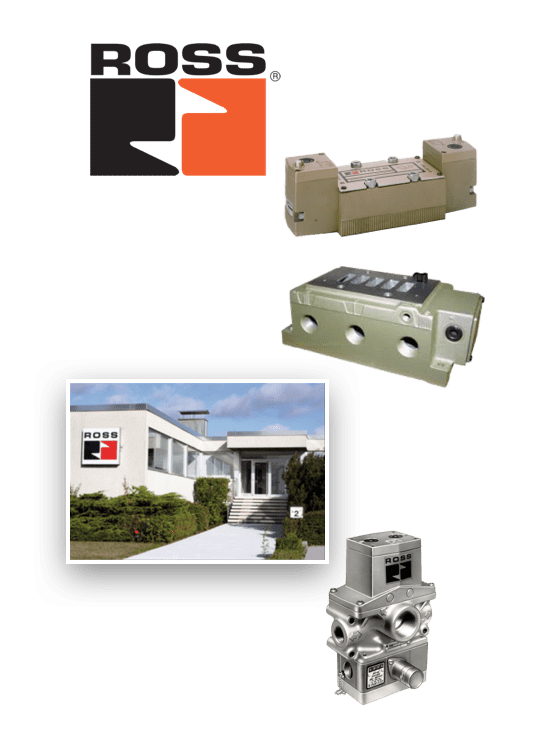 1980:
The new CrossFlowTM SERPAR® Press Safety Valve is introduced. Continuous product improvement and innovation confirms ROSS' ongoing commitment to Safety.
1981:
ROSS becomes the first American company to embrace the ISO 5599-1 European standard for base mounted valves.
1982:
ROSS Asia moves its operations to a new, larger facility in Sagamihara, Japan.
1984:
ROSS U.K. Ltd. becomes a wholly-owned ROSS subsidiary, with operations in Milton Keynes, England.
1985:
ROSS opens a Center for Engineering Excellence in Lavonia, Georgia.
1986:
ROSS introduces ROSS/FLEX®, an application-based, customer-driven, rapid product development process.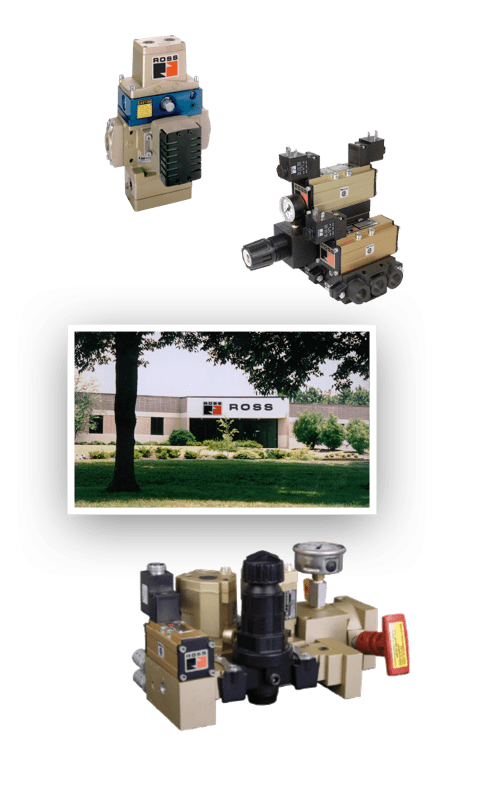 1991:
ROSS develops an electro-pneumatic proportional valve for the Glass Container Industry
1993:
ROSS introduces Counterbalance technology to improve quality and productivity of the parts produced by Mechanical Stamping Presses.
1995:
After 75 years as ROSS Operating Valve Company, ROSS changes its name in the marketplace to ROSS Controls. The new name reflects the evolution of product development to include electro-pneumatic solutions and applications optimizing ROSS/FLEX® solutions.
1997:
ROSS introduces the L-O-X® with an integrated EEZ-ON® function. This industry-leading design combines the safety features of lockout/tag-out with gradual pressure build-up during the re-energization phase of the pneumatic circuit.
1998:
ROSS introduces the CrossMirror® double valve family with dynamic monitoring.
2000:
ROSS opens a wholly-owned subsidiary in India.
2001:
ROSS opens a wholly-owned subsidiary in Brazil.
ROSS opens a wholly-owned subsidiary in France.
2005:
ROSS continues its industry leadership in Press Safety and introduces the DM2 family of valves. The total "Dynamic Monitoring & Memory" (DM2) technology delivers the highest level of safety in the industry.
2006:
Machine safety becomes the industry standard for work protection with the release of ISO 13849:2006. ROSS applies decades of Press Safety technology to the new safety standards. The color YELLOW is adopted to differentiate ROSS Machine Safety products from the traditional GOLD color applied to Press Safety products.
ROSS opens a wholly-owned subsidiary in China.
2009:
ROSS acquires DALE Industrial and expands its poppet valve options into high-flow, leak test, leak tight, and process applications.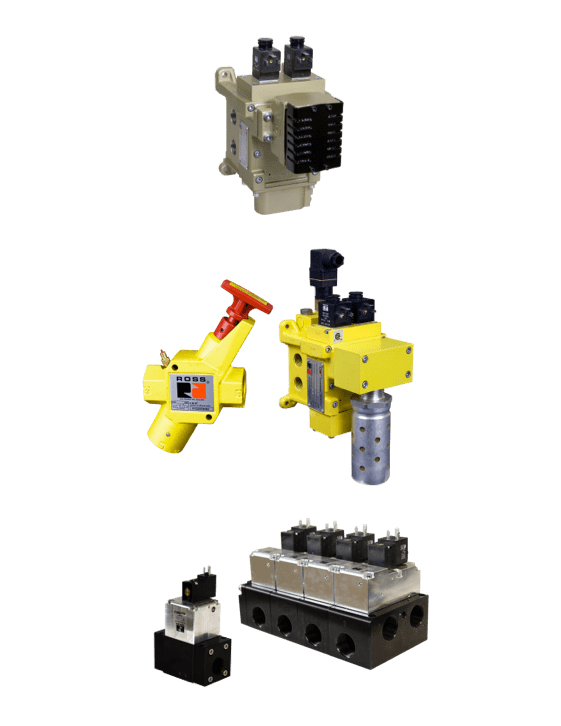 2011:
ROSS acquires the Detroit Coil Company (DECCO®) to expand in house solenoid technology capabilities.
2012:
ROSS opens manufactIS GmbH (mIS) to strengthen its after-market position in the Glass Container Industry.
2016:
ROSS Canada opens to further expand the Company's North American presence.
2017:
ROSS acquires the Industrial Division of Automatic Valve Corp. (Novi, MI) to expand its market position in the Process Industry.
ROSS acquires ElectroGuard® technology from Rockwell to strengthen and expand its Safety solutions offering.
ROSS launches the M35 Safe Exhaust Valve Series.
ROSS launches the RSe Safe Exhaust and Safe Return Valve Series.
2017 to 2019:
ROSS' safety valve monitoring evolves from internal double valve synchronization to the use of sensors and addition of electronics within the valve.
2018:
ROSS expands its safety offering into hydraulics and launches Block & Stop and Block & Bleed valve systems.
2019:
ROSS acquires Pneumatrol Ltd. (UK) to expand its market position in Hazardous Area technologies and in the Process Industry.
ROSS launches the MCSE Safe Exhaust Valve Series.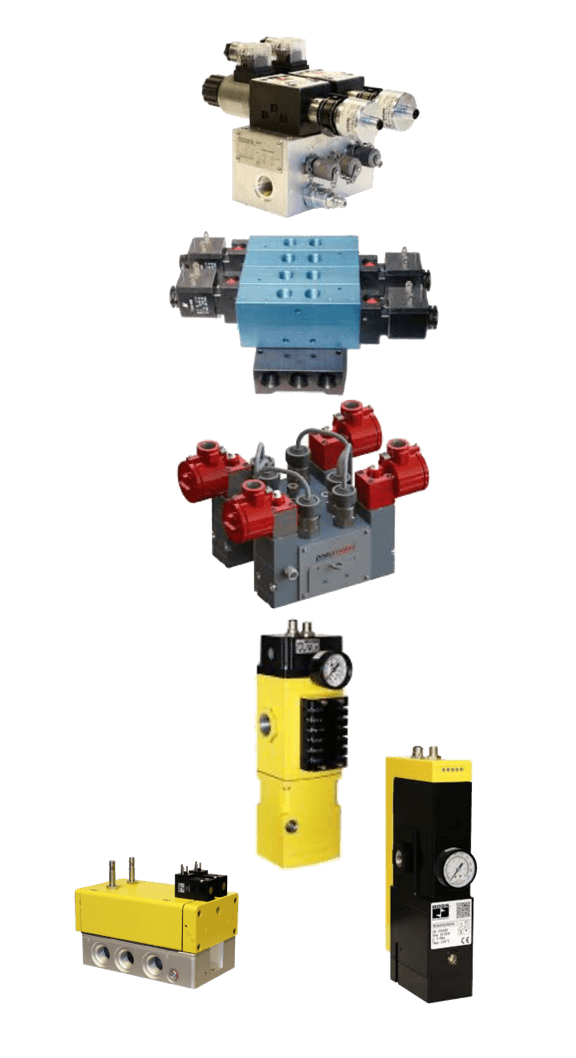 2020
ROSS starts the new decade by developing and introducing a world-class valve for Oxygen Concentrators as the Company expands into the Medical Industry.
2021
ROSS celebrates its 100th Anniversary with exciting news to come – stay tuned!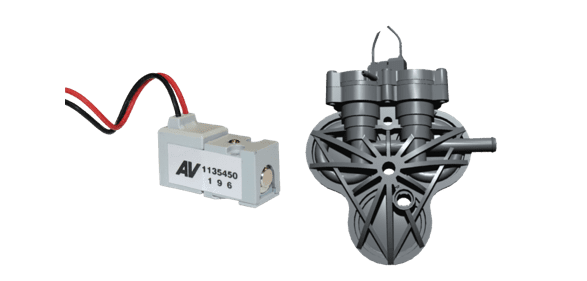 Change The Future with ROSS
Make your mark on the world and join the ROSS team. Explore our current employment opportunities.
Careers